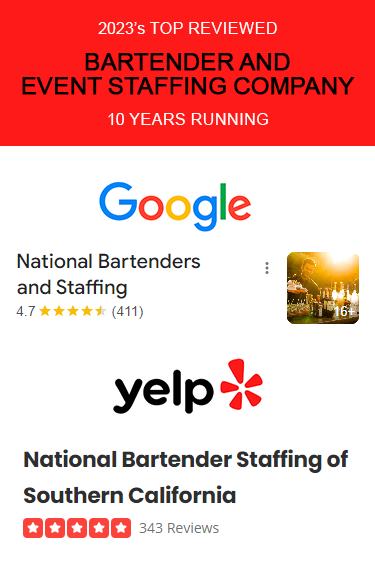 NBS has staffed more than 10,000 public and private events with local bartenders over the past 5 years!

Let our National Bartender Staffing (NBS) event and staffing company handle the heavy lifting so you can be a guest at your own party in Calabasas, California!
Whether it's a private event, wedding, or company shindig, our trained and insured staff will take care of everything from setup to cleanup, so all you have to do is mingle and have a good time. Plus, with our talented and professional event staff, your guests are sure to have a blast too. Let's make your event unforgettable!
Current Staffing Specials
Only $35/hour for a FUN, FRIENDLY, PROFESSIONAL, & INSURED bartender! Servers, barbacks, and event help are also available.
We can help you with a personalized shopping list, signature cocktails, and signature cocktail tastings!
Full alcohol packages are available where we bring EVERYTHING (alcohol, mixers, juices, garnish, ice, cups) starting at $20/hr per person.
We also have mobile bar rentals, DJs, photo booths, and valet service available!
Get 25% OFF [current_month] 2023 ONLY
Call (818) 577-6521 & MENTION CODE: LILLY
Only the best event staff are hired at National Bartender Staffing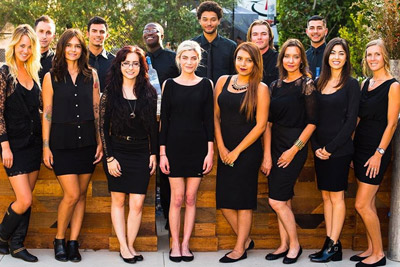 Our huge roster of highly trained bartenders is ready to make your party a success. All our local bartenders are required to have the following before we send them out:
Rigorous training and extensive experience in the industry
Knowledge of drink mixing and bar etiquette
Willingness to go the extra mile to ensure your party is a hit
Punctuality, presentation, and accountability
Arrive early to set up, cut garnishes, and go over drink specials
Their own equipment like bottle openers, towels, shakers, and strainers
Staying as long as needed for cleanup
Learning specialized drinks for your event and expertly presenting them
Sharp black bistro attire (unless otherwise specified)
Availability of specific bartenders upon request
Willingness to go to great lengths to make your event a success
Variety of bartenders available (female, male, flair)
More Locations to Hire a Bartender near Calabasas
Agoura Hills – Monte Nido – Tarzana – Canoga Park – Thousand Oaks
Common Questions for Hiring a Bartender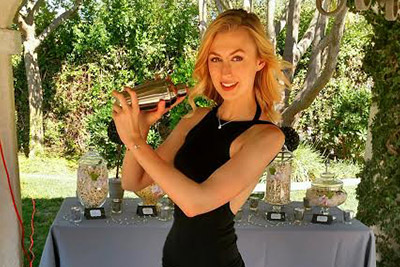 How much does it cost to hire a bartender in Calabasas?
A bartender's rate can range from $30 to $60 per hour. To factor in the cost of a bartender for a private party, you'll need to consider the following:
The party's geographical location
The date of the event
The number of people at the party
The bartender booking service
Does the cost depend on my party's location?
Bartenders in different cities can have varying rates, with some earning above or below the national average. For example, bartenders in New York could make about 30% above the national average, while bartenders in Las Vegas and San Francisco may earn about 44% to 48% above the national average, respectively. The cost can also vary depending on the local economy and the strength of the local hospitality staffing service.
Can I book a bartender during the holidays?
Booking a bartender during the holidays is a great idea as they bring the perfect festive atmosphere to your event. However, it may cost a little more as event bartenders usually charge more for events held on or near a holiday due to the increased demand during these times of the year.
See more FAQs on how to hire a bartender.
Yes, of course we
have a liquor license!
Our Licenses & Permits include:
All appropriate ABC licensing
Liquor liability insurance covering $5 million
One day or multiple day liquor permit options
Cash bar events available
When searching for bartenders for hire, which bartender to rent is right for you?
Event Bartender: An event bartender is a professional bartender who specializes in providing drinks and cocktails for events such as weddings, corporate events, and private parties. Our private bartenders are skilled at working in fast-paced environments and can create a variety of drinks to suit different tastes.
Mixologist: A mixologist is a bartender for hire who specializes in creating unique and creative cocktails. Our mixologists have a deep knowledge of different spirits, ingredients, and flavor combinations, and can create custom cocktails tailored to the preferences of the guests.
Flair Bartender: If you're going to rent a bartender, this one is a must see. A flair bartender is a bartender who performs tricks and acrobatics while preparing drinks. Our flair bartenders for hire are skilled at juggling bottles and shakers and can entertain guests while creating cocktails.
Tiki Bartender: A tiki bartender is a bartender who specializes in creating tropical and exotic cocktails, often served in fun and elaborate tiki-themed glasses. Our tiki bartenders are knowledgeable about different rums and fruit juices and can create a range of refreshing and fruity cocktails.
Sommelier: A sommelier is a wine expert who specializes in pairing wines with food. Our sommeliers can recommend the best wines to pair with the menu of your event and provide a professional wine service.
Ask about Mobile Bartending Prices for:
Private Parties
House Parties
Weddings
Birthday Parties
Graduation Parties
Anniversary Parties
Retirement Parties
Corporate Parties
Special Events
Holiday Parties
Catering Events
Here's how to hire a bartender in Calabasas
Just give us a call and we'll handle the rest.
We'll work with you to determine your staffing needs and budget, and take care of everything else. From bartenders and servers to setup and cleanup, we've got you covered.
And the best part?
You'll get 25% OFF when you call (this month only). Then you can sit back, relax and enjoy your event without lifting a finger.
Don't wait, call (818) 577-6521 now!
Submit the form below to hire a local bartender