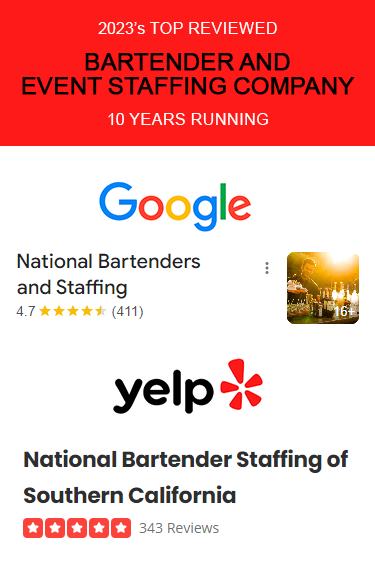 NBS has staffed more than 10,000 public and private events with local bartenders over the past 5 years!

There are plenty of celebrations where hiring a private bartender can take your party to the next level!
Here are just a few examples:
Weddings
A wedding is a special occasion that deserves a professional bartender who can craft cocktails to fit the theme of your big day.
Corporate Events
Whether you're hosting a product launch, team-building event, or holiday party, a private bartender can elevate your corporate event with creative cocktails and impeccable service.
Birthday Parties
Celebrating a milestone birthday or just a night out with friends? Hiring a bartender ensures that everyone has a good time without worrying about mixing their own drinks.
Anniversaries
Celebrating a special anniversary with your significant other? A private bartender can create a romantic atmosphere with signature cocktails and attentive service.
Bachelor/Bachelorette Parties
A private bartender is a must-have for a wild night out with your closest friends before your wedding day.
Holiday Parties
Whether it's a Christmas party, New Year's Eve bash, or Fourth of July barbecue, a private bartender can create festive drinks that match the holiday spirit.
Graduation Parties
After years of hard work, graduation deserves a celebration! A private bartender can help you celebrate with friends and family in style.
Housewarming Parties
Moving into a new home is a big deal, and a private bartender can help you break in your new space with creative cocktails that showcase your personal style.
Charity Events
Hosting a celebrity fundraiser or charity event? A private bartender can help attract guests and keep them entertained with delicious drinks.
Reunions
Whether it's a high school or family reunion, a private bartender can help everyone catch up over a round of cocktails.
Find, Rent or Hire a Bartender Near You
Common Questions for Hiring a Bartender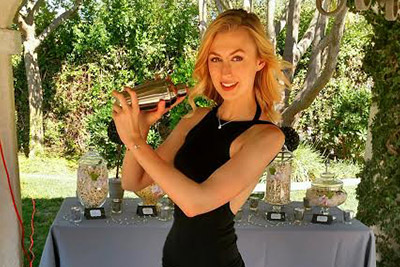 How much does it cost to rent or hire a bartender?
A bartender's rate can range from $30 to $60 per hour. To factor in the cost of a bartender for a private party, you'll need to consider the following:
The party's geographical location
The date of the event
The bartender's special skills and training
The number of people at the party
The bartender booking service
Does the cost depend on my party's location?
Bartenders in different cities can have varying rates, with some earning above or below the national average. For example, bartenders in New York could make about 30% above the national average, while bartenders in Las Vegas and San Francisco may earn about 44% to 48% above the national average, respectively. The cost can also vary depending on the local economy and the strength of the local hospitality staffing service.
Can I book a bartender during the holidays?
Booking a bartender during the holidays is a great idea as they bring the perfect festive atmosphere to your event. However, it may cost a little more as event bartenders usually charge more for events held on or near a holiday due to the increased demand during these times of the year.
Yes, of course we
have a liquor license!
Our Licenses & Permits include:
All appropriate ABC licensing
Liquor liability insurance covering $5 million
One day or multiple day liquor permit options
Cash bar events available
Hiring a Bartender with Special Skills
Bartenders that can flip bottles and tell stories or jokes while they serve drinks are called flair bartenders. Hiring a flair bartender will most likely cost more due to the extra training and skill involved.
Another consideration to keep in mind when hiring flair bartenders is the amount of time needed to serve each drink. Fewer guests will be served per hour because of the embellishments involved with this type of bartending, so you may need to hire additional bartenders for larger events.
Other special skills bartenders may possess include:
Knowledge of how to mix a wide range of standard and more obscure drinks
Outgoing personality
Communication skills
Good long-term and short-term memory
The more skilled an event bartender is, the more he or she can demand for that service.
You May Need More Than One Bartender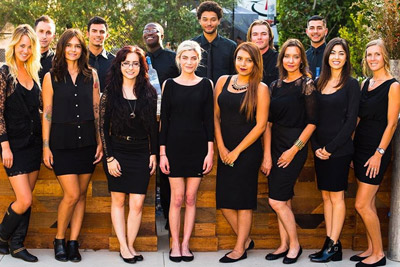 The beverages served and the number of guests attending the party normally determines the number of bartenders you'll need to hire.
Beverages Served: If your bar is limited to beer and wine, you may only need one bartender for up to 100 guests. If mixed drinks are served, you will likely need more than one bartender. Mixed drinks take more time to prepare and serve than beer and wine.
Maximum Guests: Some personal bartenders base their service on the number of guests. Many bartenders limit their service to 50 to 75 guests maximum. After the 75-guest threshold is met, you should calculate the cost of including an additional bartender.
Discounts for Additional Bartenders: A lot of bartending service providers will provide a discount for additional bartenders required.  Billing policies vary and each individual and company will have their own. These discounts may increase incrementally, for example, a 5% discount for the first additional bartender, 10% for the second additional bartender, and so on.
Booking Your Bartender
Most bartenders are booked in four-hour increments (some require three hours). If you go over these time limits, your bartender may charge overtime fees of $30 to $80 — in addition to alcohol.
Make sure you book your bartender early, at least a few months ahead of time. Good ones with special skills (like the ones mentioned above) are in high demand and are hired quickly.
Expect to pay an upfront fee of about 50% of the final cost prior to guaranteed services.
Gratuity & Transportation
On top of their hourly wage, bartenders customarily receive tips for their services. Most bartenders expect to earn tips of 5 to 20% of the total. Expect to pay a higher hourly rate if a tip jar is not allowed. This is to make up for lost income.
The bartender's contract may include other considerations including his or her transportation to and from the party.